GLOSSARY OF PRINTMAKING TERMS
Intaglio Techniques
Aquatint - A process used for the creation of large areas of tonal shading. In aquatint, small grains of resin are sprinkled on the surface of the plate, which is then heated to affix the particles to the surface. When the plate is immersed in the acid bath, the resin protects its surface, so that the acid only "bites" the spaces between the grains. Depending on particle size, this leaves a fine or coarse network of crevices which hold ink, creating an area of tone. When printed, the tonal effects are similar to a watercolor wash.
Drypoint - A type of intaglio print in which lines or tones are scratched into the surface of a bare metal plate with a sharp metal point, sometimes tipped with a diamond. In contrast to engraving, the displaced copper is left in narrow furrows flanking the groove and catches ink, creating a halo effect.
Engraving - An intaglio process in which a plate is marked or incised directly with a burin or other metal-marking tool. No acid is used in this process since the design is dug out by hand.
Etching - An intaglio method in which drawn marks are "bitten" into a metal plate by acid or chemical means. A metal plate is first covered with an acid-resistant substance called a ground through which the image is drawn with a needle or other tool, thereby exposing the bare metal. The plate is immersed in an acid bath that chemically dissolves the exposed metal, creating depressed lines or areas that can be inked and printed.
Relief Printing Techniques
Linocut/Linoleum Cut – A relief process in printmaking, like a woodcut, where the artist carves the image out of the linoleum or linoleum mounted onto wood. What remains is printed, rather than what is cut away.
Woodcut (or Woodblock) – A relief process where the image is left raised above what is carved out of the wood. In order to print impressions, ink is rolled onto the uncarved surface of the block, printing only the areas left on the surface; the cut-away areas do not print. A printing press may be used, or the impressions may be printed by hand.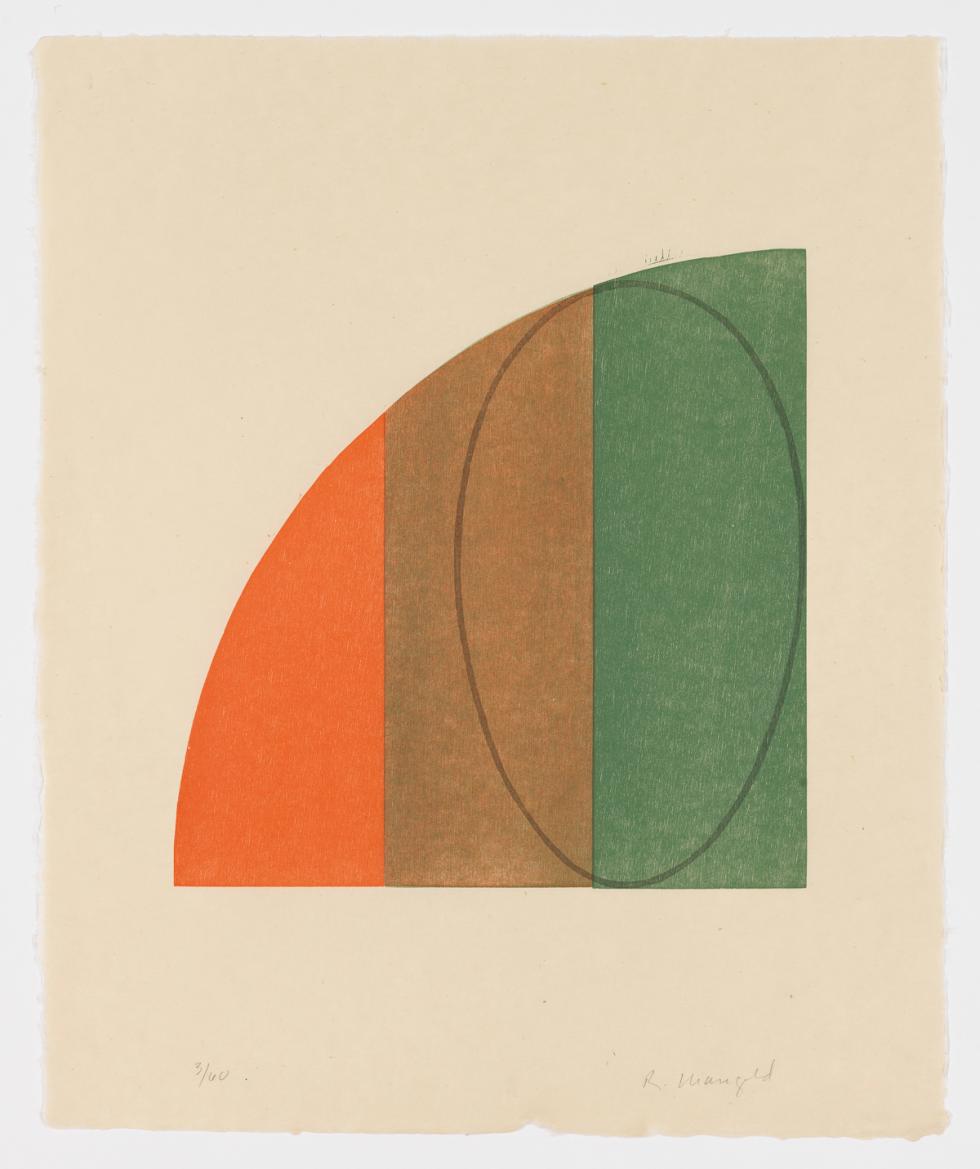 Curved Plane / Figure III (1995.03), 1995, woodcut on handmade Kitikata paper, 20 1/2 x 17 inches, edition of 60, Pace Editions, Inc., New York.